Possum Kingdom State Park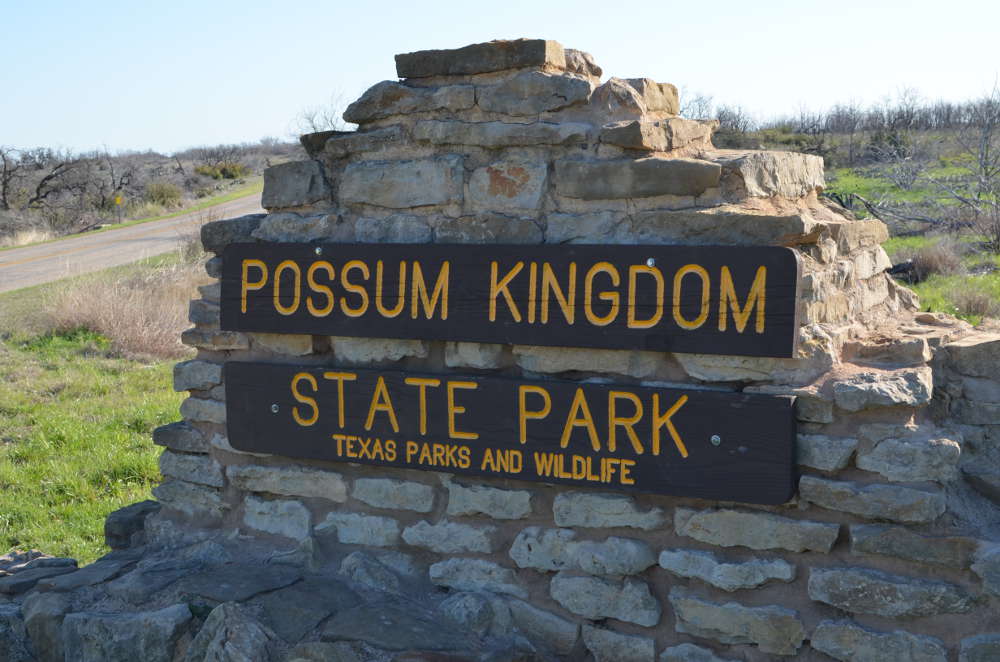 Possum Kingdom State Park is a massive 1,500 acre state park on the west side of Possum Kingdom Lake. This park was built during the depression era of 1930's and early 40's by the Civilian Conservation Corps which work started as a part of the New Deal. You can see many of the hand crafted amenities in the park today.
Possum Kingdom State Park is very popular for camping. With over 100 campsites available, many of which have wonderful lake views, people come from all over Texas to camp in this park. The campgrounds have plenty of trees for shade and many are built on the cliffs and hillsides of the lake.
In addition to camping, there is a nice beach area to use during the day time. Possum Kingdom State Park has many trails for those that are looking to explore the 1,500 acres. And there is plenty of fishing from the bank available within the park.
There is a small marina and store area within the park. The marina offers up kayak and canoe rentals in addition to many other convenience store items.
If you choose not to camp outdoors, there are a handful of cabins to rent that have little porches that look out across the lake. These cabins are in there own area separate from the camping areas. They are very close to the marina store.
Amenities of the park include:
116 campsites (even more with overflow primative camping)
Beach area
Fishing pier
Boat ramp
Restrooms with showers
Marina store
Kayak rentals
Hiking trails
Picnic tables
Fire rings
Playgrounds
Gas pump
Boat dock
Cabin rentals
Basketball court
This is a beautiful park with plenty to do for any outdoorsman.
Park Rules
Entrance fee to the park is $4 per adult. Children 12 years old and under are free.
Campsites range between $7 per night for primitive camping and $20 per night for premium campsites with water and electricity.
Cabins range in cost between $75 per night and $135 per night depending on the cabin.
Check out time is 2 pm for campsites, 11 am for cabins or renew permit by 9 am pending availability.
Public consumption or display of any alcoholic beverage is prohibitied.
A maximum of eight people permitted per campsite. Four per site in primitive area. Guests must leave the park by 10 pm. Quiet time is from 10 pm to 6 am. Generators must be turned off during quiet time.
Campsite must be kept clean. All trash must be picked up before leaving.
Dumpsters are conveniently located on all camping loops. Gray water and black water must be discharged only at dump stations.
Only one unit per site is permitted to hook up to utilities.
Pets must be kept on a leash and attended at all times. Please pick up after them. No pets in or around cabin area.
No tents in cabin area.
Water Activities
Swim at your own risk. NO LIFEGUARD on duty.
No pets or glass containers allowed in swimming area.
Always swim with a friend. Children must be supervised by an adult who can swim.
See Nature At Her Best
Deer, wild turkey, raccoon, squirrel, rabbit, fox and bobcat.
Exceptional birding opportunities.
Native trees, plants, grasses and cacti.
Fires
Gathering of firewood is prohibited.
Campfires are permitted only in fire rings provided at each site. No ground fires are permitted. Please, use extreme caution with any burning materials during the high-fire danger summer brings.
Boat Launch Protocol
Have your vessel ready to launch before getting to ramp area. Launch your vessel and clear the ramp area. Do not block ramp area.
No boat clean-up or swimming in the ramp area.
If your vessel will not start, clear the ramp area.
Personal watercraft are not allowed in the swimming area and must observe the No Wake rules, particularly in the boat-launch area. Personal watercraft are not allowed to tie up in boat-launch area.
Located at: 3901 St Park Rd 33, Caddo, TX 76429
Phone: (940) 549-1803
For camping reservations please visit the Texas Parks and Wildlife website.